Fractures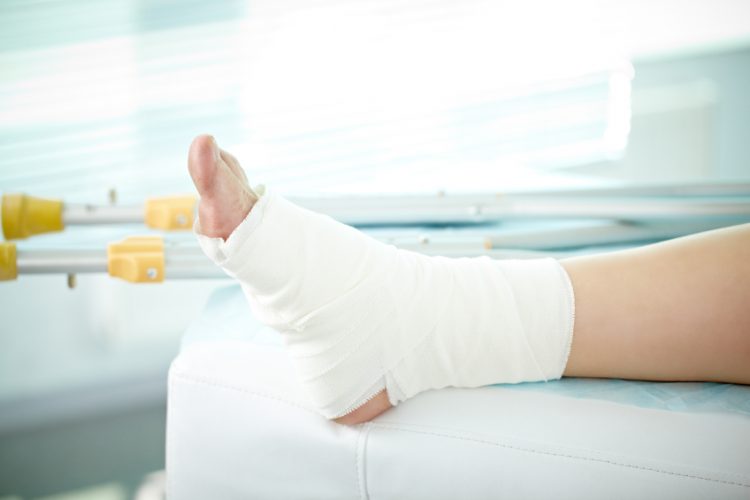 Up to adulthood, it usually takes a major injury to cause a fracture. For the elderly, the loss of bone density is the cause of most fractures.
Classification of fractures
There are different types of fractures. Among them, there is the displaced fracture, which is when the 2 portions of the fractured bone are no longer aligned. Furthermore, a fracture is said to be complete if the bone fragments are completely separate. You can also find open fractures if the bone pierces the skin.
Recovery time
Simple fractures heal after 6-8 weeks for small to medium-sized bones (e.g. the bones of the forearm, humerus). The period can be much longer for weight-bearing bones (e.g. femur or tibia) or for an elderly person in connection with a decrease in the circulatory efficiency or the presence of osteoporosis.
Healing phases
Phase 1: Bruise formation (hemorrhage, rupture of the different structures)

Decrease in vascularization causing the death of bone cells. The tissue at the site of the fracture swells, becomes painful and then inflammation occurs.

Phase 2: Fibrocartilage callus formation (increase in blood circulation)

In only a few days, there will be an increase in blood supply, cleaning of the inflammatory debris and the beginning of bone reconstruction. Then collagen is produced and cancellous bone develops (more porous bone).

Phase 3: Hard callus formation

In less than a week, new bone trabeculae gradually develop. Bone calluses continue to develop until the bone is firmly mended, approximately two months after the accident.

Phase 4: Bone remodeling

For several months, the bone calluses undergo transformations to form a more compact bone. At the end of this phase, you can notice that the remodeled region is similar to the initial bone, since they are subject to the same mechanical stresses.
In physiotherapy
According to the doctor's indications, the type of fracture and the type of operation carried out, it is possible to perform interventions in physiotherapy for the following reasons:
To reduce the pain: Ice, electric current, TENS, ultrasound, advice on the use of crutches/cane.
Reduce the swelling and inflammation: Ice, ultrasound, drainage by massage, contrast bath, taping, elastic bandage.
Increase mobility: Direct manual therapy, mobility exercises.
Increase muscle strength: strengthening exercises, neuromuscular stimulation.
Ultrasonic protocol to promote healing in case of bad bone consolidation